Instructing children in what is required of human
حول الكتاب

What an honour and a pleasure it is for me to present
this English translation of Imam Noor Al-Deen Abdullah Al-Salimi's Talgin Al-Subyan Ma Yalzam AI-Insan (Instructing Children in What is Required of human) to the numerous people it may help.
The book of Tal/gin Al-Subyan is well known in Omani society; as it is an important book not only for children, but for all people of all ages.
The book contains an introduction, two major chapters, and a conclusion. These were entitled as follows:  
- Introduction: Guardians' obligations towards  children
-  Chapter 1: The essential beliefs to be heldin the   heart
-  Chapter 2: Primary obligatory acts of worship
-  Conclusion:  Major  physical  acts  and  psychological attitudes which a person should avoid and denounce  
What  distinguishes  this  translation  from  previous one(s) is that it is provided with commentaries of Sheikh Abu Is'haq Ibrahim Attafayyish, which are placed  as footnotes  at the bottom  of pages.  Sheikh  Abu Is'haq Ibrahim Attafayyish (1305 A.H.-1385 A.H.),  was a great Algerian Ibadhi scholar. He has authored, examined  and corrected several books. He published "Al-Minhaj  Magazine"  as  an  example  of  his reformatory endeavours.
One of my ambitions is to publish Ibadhi thoughts and literature in different languages. The book of Talgin Al- Subyan,  in my opinion,  is one of the essential  Ibadhi books that should be published on a wide scale; for its importance to all Muslims in general. And we should not also forget how valuable it is to new Muslims.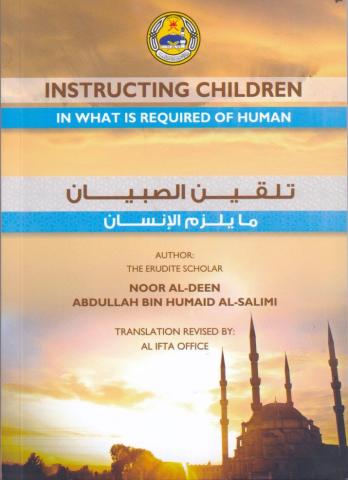 الناشر
Ministry of Endowments and Religious Affairs - Oman
رابط التحميل